Spring Digital Offer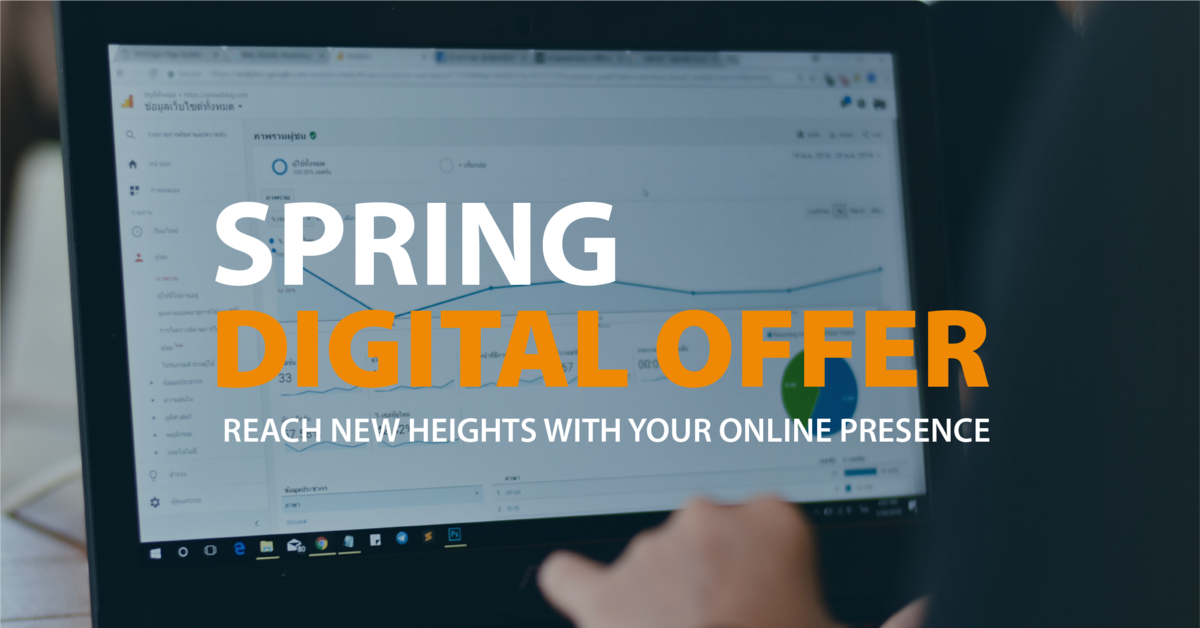 The digital transformation has accelerated since Covid-19; with more and more people using online and digital services, now is the time for you to build your online presence with our unmissable spring offer! Maximise your online efforts and gain effective digital strategies that will increase your reach and deliverability to new and existing clients.






THE COMPLETE WEBSITE PACKAGE
1. WEBSITE DESIGN AND DEVELOPMENT
We can offer a professionally designed website that will help form a good impression to your audience. Our specialist team ensure that your website resonates with your brand and provides a a streamlined user experience.
From £1,500, you can stand out over competitors and boost your conversions online!
2. SEARCH ENGINE OPTIMISATION
SEO is a staple to any marketing strategy and is crucial to make sure you are being found on the first page of any search engine. Be ranked higher than your competitors with our tailored optimisation strategy.
From £375.00, you can benefit from improved visibility online and quality search traffic for your target audience.
3. ONGOING WEBSITE HOSTING
Allow your business to be accessible to users across the world and be reassured that your website is being managed and retained by our specialised digital team.
FREE for the first 3 months and ongoing payments of only £50.00 per month – this is a no brainer!
4. ANNUAL SSL CERTIFICATE
Stay secure online with the strongest encryption that will keep your website protected by global standard technology -moving you from HTTP to HTTPS.
FREE for the first 12 months and ongoing payments of only £185.00 per annum – what's not to like about this?
THE ULTIMATE ADVERTISING COLLECTION
Gain 3 brand-initiated advertising campaigns each month to SAVE £200 PER MONTH or select the platforms of your choice to be able to reach your desired audience and drive more traffic to your website!
1. GOOGLE ADS
Kick-start your brands visibility in search results, with the ability to promote your website with the best advertising campaigns that are set up with relevant keywords to ensure that you are being seen by the intended audience.
2. FACEBOOK ADS
Facebook's advertising platform allows you to target the ideal audience for your business by detailing the demographics, location, interests and more.
3. TWITTER COMPETITOR ADS
We can conduct competitor advertisements on Twitter's advertising platform, which allows you to target the followers of other accounts, including competitors.


GET IN TOUCH
We can put together a tailored strategy that aims to reach your objectives, whilst completely managing the project for you to help take away those unwanted pressures.
Get in touch with our specialised team who will be happy to support your brand. Call us on 01384 563 086 or email support@metaltrack.co.uk and our team will be in touch.
Sign up before June 31st 2021 to redeem this offer.